Previewing changes
Remember to save early and often.
Quick Reminder
Previewing your changes
After you save your page as a draft, you can preview the page by clicking on "Preview mode" or "Split mode" in the side by side preview menu.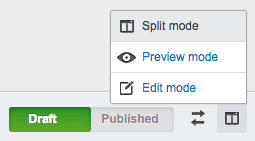 This will allow you to view a preview of your draft content alongside your editable form. That way you can make live updates to the draft site and see the preview immediately.